Home of the Potato Puff
Founder Grégoire Jacquet grew up in a small French city where he and his family grew their own food and cooked their own meals. He did not visit a restaurant until he was 14 years old, but when he did, he decided that he wanted to become a chef. Jacquet went to cooking school and worked in fine-dining restaurants throughout France, the U.S. and Puerto Rico.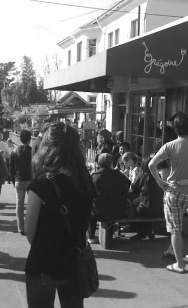 After the turn of the century, he decided he wanted to open his own restaurant and do things his way, including the famous French invention of the potato puffs that have now become a staple in the Bay Area community. Jacquet wanted to do away with the dynamic between the front-of-house and the kitchen. He wanted to cook in front of customers and interact with them. Thus, Grégoire was born. For 20 years now, the concept has been a hit in the Northern California market.